Credit Card Payments Accepted
Credit card payments including Visa, Mastercard, American Express, PayPal and Discover all accepted for our carbide bur die grinder tool bits.  Here is some information about credit cards you might find interesting below.
A credit card is a payment card issued to users (cardholders) to enable the cardholder to pay a merchant for goods and services based on the cardholder's promise to the card issuer to pay them for the amounts plus the other agreed charges. The card issuer (usually a bank) creates a revolving account and grants a line of credit to the cardholder, from which the cardholder can borrow money for payment to a merchant or as a cash advance.
A credit card is different from a charge card, which requires the balance to be repaid in full each month. In contrast, credit cards allow the consumers to build a continuing balance of debt, subject to interest being charged. A credit card also differs from a cash card, which can be used like currency by the owner of the card. A credit card differs from a charge card also in that a credit card typically involves a third-party entity that pays the seller and is reimbursed by the buyer, whereas a charge card simply defers payment by the buyer until a later date.
Credit Card Technical specifications
The size of most credit cards is 85.60 by 53.98 millimetres (3 3⁄8 in × 2 1⁄8 in) and rounded corners with a radius of 2.88–3.48 millimetres (9⁄80–11⁄80 in) conforming to the ISO/IEC 7810 ID-1 standard, the same size as ATM cards and other payment cards, such as debit cards.
Credit cards have a printed or embossed bank card number complying with the ISO/IEC 7812 numbering standard. The card number's prefix, called the Bank Identification Number (known in the industry as a BIN), is the sequence of digits at the beginning of the number that determine the bank to which a credit card number belongs. This is the first six digits for MasterCard and Visa cards. The next nine digits are the individual account number, and the final digit is a validity check code.
Both of these standards are maintained and further developed by ISO/IEC JTC 1/SC 17/WG 1. Credit cards have a magnetic stripe conforming to the ISO/IEC 7813. Many modern credit cards have a computer chip embedded in them as a security feature.
In addition to the main credit card number, credit cards also carry issue and expiration dates (given to the nearest month), as well as extra codes such as issue numbers and security codes. Not all credit cards have the same sets of extra codes nor do they use the same number of digits.
Credit card numbers were originally embossed to allow easy transfer of the number to charge slips. With the decline of paper slips, some credit cards are no longer embossed and in fact the card number is no longer in the front.
Uses for Carbide Bur Cutting Tools:
Aluminum
Brass
Bronze
Carbon fiber
Cast iron
Ceramics
Copper
Fiberglass
Gold
Hard rubber
Plastic
Platinum
Silver
Steel
Stone
Titanium
Wood
Zinc
Burs (burrs) come in a variety of shapes and sizes, each of which can be used for different purposes:
Arch ball/pointed nose – engraving, texturing, increasing hole size
Ball – concave cuts, hollowing, shaping, carving. Useful for wood, stone, metal engraving.
Ball nose cone – rounding edges, surface finishing, tight spaces, and angles.
Carbide Ball nose cylinder- contour finishing
Ball nose tree (also known as tapered) – concave cuts and rounding edges
Cone – rounding edges, surface finishing, tight spaces, hard to reach areas.
Cylindrical – contour finishing and right-angled corners
Cylindrical end cut – contour finishing
Carbide Cylindrical no end cut – contour finishing
Flame – channel work and shaping
Inverted cone – v-cuts and rear-side chamfering
Oval – die grinding and engraving
Pointed tree – concave cuts, rounding edges, access to hard-to-reach areas, and acute angles.
Rounded tree – concave cuts and rounding edges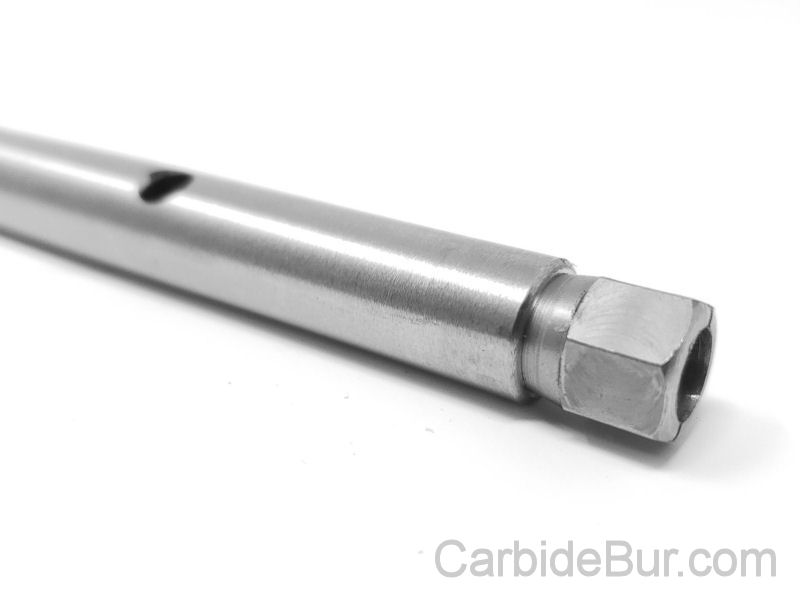 Need a longer reach?
Try our 4″ and 9″ extension tool for your carbide bur bits

Burs (burrs) also come in a variety of ranges, each of which has a specific benefit in their use:
Alloy-specific – heads have varying shapes used with certain metal alloys – used in the
aerospace/aviation industry
Base metal range – used for deburring on softer metals
Bolt remover range – used for the removal of broken studs
Foundry metal range – used for deburring on harder metals, stone, etc.
Inox range – specifically used with stainless steel
Locksmith range – used by locksmiths
Long shank range – general-purpose; long shafts useful for deeper, hard-to-reach areas
Miniature range – miniature heads useful for engraving and fine detail work
New geometry range – used for all general metal removal
Steel range – heads have specialized fluting to cut stainless steel
Universal range – general-purpose, best on metals such as copper, iron, nickel, and steel
Carbide burs (burrs) require a bit of special care to keep them performing optimally. To preserve the life
of your carbide burs (burrs), ensure your handpiece does not wobble. The speed of your rotary tool
should not exceed 35,000 RPMs, and speed should be gradually increased. Please note, however,
that higher speeds will prevent flute clogging inside the bur (burr). If you apply too much pressure to the
bur (burr), the edges may chip, resulting in premature dulling.
Choose Double or Single Cut Carbide Bur?
Used on ferrous and non ferrous metals, aluminium, soft steel and also for all non-metal materials such as stone, plastics, hard wood and ceramic. Double cut have more cutting edges and will remove material much faster. Double cut will leave a smoother finish than single cut due to producing smaller chips as they cut away the material. Use for medium-light stock removal, deburring, finishing and cleaning.
Designed for medium- light removal of material, deburring, fine finishing, cleaning, smooth finish, and creating small chips.
Usually used with stainless steel, hardened steel, copper, cast iron, and ferrous metals and will remove material quickly with a smooth finish. Use for heavy stock removal, milling, deburring and cleaning.
Designed for heavy removal of material, milling, deburring, cleaning, and creating long chips.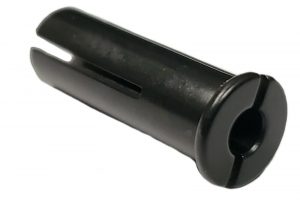 Try our 1/4" to 1/8" Collet Reducer
Allows you to use 1/8" shank carbide bits in your 1/4" die grinder

Uses for Carbide Bur Die Grinder Bits
Carbide burs are widely used in metalworking, tool making, engineering, model engineering, wood carving, jewelry making, welding, chamferring, casting, deburring, grinding, cylinder head porting and sculpting. Carbide burs can be used in the aerospace, automotive, dentistry, stone and metalsmith industries.
All our USA made carbide bur cutting tools ship SAME DAY ordered by USPS Mail with online tracking.
We can also dropship the carbide bur die grinder bits, if interested in joining our FREE dropship program.

We accept debit and all major credit card payments including Visa, MasterCard, Discover, American Express and PayPal.  Fast and easy secure checkout with no account or login required.  If you have any questions, visit our FAQ page or contact us here.


Carbide Burs – 1/4″ on 1/8″ Shanks – Accessories – Aluminum Cut – Bur Sets – End Mills – Long Shank – Solid Burs