Metalworking
Our USA made carbide bur cutting tools and die grinder bits are perfect for the metalworking industry.  We will explain to you what metalworking is and why our carbide tools are so important.
What is Metalworking?
Metalworking is the process of working with metals to create individual parts, assemblies, or large-scale structures. The term covers a wide range of work from large ships and bridges to precise engine parts and delicate jewelry. It therefore includes a correspondingly wide range of skills, processes, and tools.
Metalworking is a science, art, hobby, industry and trade. Its historical roots span cultures, civilizations, and millennia. Metalworking has evolved from the discovery of smelting various ores, producing malleable and ductile metal useful tools and adornments. Modern metalworking processes, though diverse and specialized, can be categorized as forming, cutting, or joining processes. Today's machine shop includes a number of machine tools capable of creating a precise, useful workpiece.
Prehistory
The oldest archaeological evidence of copper mining and working was the discovery of a copper pendant in northern Iraq from 8,700 BCE. The earliest substantiated and dated evidence of metalworking in the Americas was the processing of copper in Wisconsin, near Lake Michigan. Copper was hammered until it became brittle, then heated so it could be worked further. This technology is dated to about 4000-5000 BCE. The oldest gold artifacts in the world come from the Bulgarian Varna Necropolis and date from 4450 BCE.
Not all metal required fire to obtain it or work it. Isaac Asimov speculated that gold was the "first metal". His reasoning being, that, by its chemistry, it is found in nature as nuggets of pure gold. In other words, gold, as rare as it is, is sometimes found in nature as a native metal. Some metals can also be found in meteors. Almost all other metals are found in ores, a mineral-bearing rock, that require heat or some other process to liberate the metal. Another feature of gold is that it is workable as it is found, meaning that no technology beyond a stone hammer and anvil is needed to work the metal. This is a result of gold's properties of malleability and ductility. The earliest tools were stone, bone, wood, and sinew, all of which sufficed to work gold.
History
By the historical periods of the Pharaohs in Egypt, the Vedic Kings in India, the Tribes of Israel, and the Maya civilization in North America, among other ancient populations, precious metals began to have value attached to them. In some cases rules for ownership, distribution, and trade were created, enforced, and agreed upon by the respective peoples. By the above periods metalworkers were very skilled at creating objects of adornment, religious artifacts, and trade instruments of precious metals (non-ferrous), as well as weaponry usually of ferrous metals and/or alloys. These skills were finely honed and well executed. The techniques were practiced by artisans, blacksmiths, atharvavedic practitioners, alchemists, and other categories of metalworkers around the globe.
As time progressed metal objects became more common, and ever more complex. The need to further acquire and work metals grew in importance. Skills related to extracting metal ores from the earth began to evolve, and metalsmiths became more knowledgeable. Metalsmiths became important members of society. Fates and economies of entire civilizations were greatly affected by the availability of metals and metalsmiths. The metalworker depends on the extraction of precious metals to make jewelry, build more efficient electronics, and for industrial and technological applications from construction to shipping containers to rail, and air transport. Without metals, goods and services would cease to move around the globe on the scale we know today.
Milling
Milling is the complex shaping of metal or other materials by removing material to form the final shape. It is generally done on a milling machine, a power-driven machine that in its basic form consists of a milling cutter that rotates about the spindle axis (like a drill), and a worktable that can move in multiple directions (usually two dimensions [x and y axis] relative to the workpiece). The spindle usually moves in the z axis. It is possible to raise the table (where the workpiece rests). Milling machines may be operated manually or under computer numerical control (CNC), and can perform a vast number of complex operations, such as slot cutting, planing, drilling and threading, rabbeting, routing, etc. Two common types of mills are the horizontal mill and vertical mill.
The pieces produced are usually complex 3D objects that are converted into x, y, and z coordinates that are then fed into the CNC machine and allow it to complete the tasks required. The milling machine can produce most parts in 3D, but some require the objects to be rotated around the x, y, or z coordinate axis (depending on the need). Tolerances come in a variety of standards, depending on the locale. In countries still using the imperial system, this is usually in the thousandths of an inch (Unit known as Thou), depending on the specific machine. Many other European countries, standards following the ISO are used instead.
Grinding
Grinding uses an abrasive process to remove material from the workpiece. A grinding machine is a machine tool used for producing very fine finishes, making very light cuts, or high precision forms using an abrasive wheel as the cutting device. This wheel can be made up of various sizes and types of stones, diamonds or inorganic materials.
The simplest grinder is a bench grinder or a hand-held angle grinder, for deburring parts or cutting metal with a zip-disc.
Grinders have increased in size and complexity with advances in time and technology. From the old days of a manual toolroom grinder sharpening endmills for a production shop, to today's 30000 RPM CNC auto-loading manufacturing cell producing jet turbines, grinding processes vary greatly.
Grinders need to be very rigid machines to produce the required finish. Some grinders are even used to produce glass scales for positioning CNC machine axis. The common rule is the machines used to produce scales be 10 times more accurate than the machines the parts are produced for.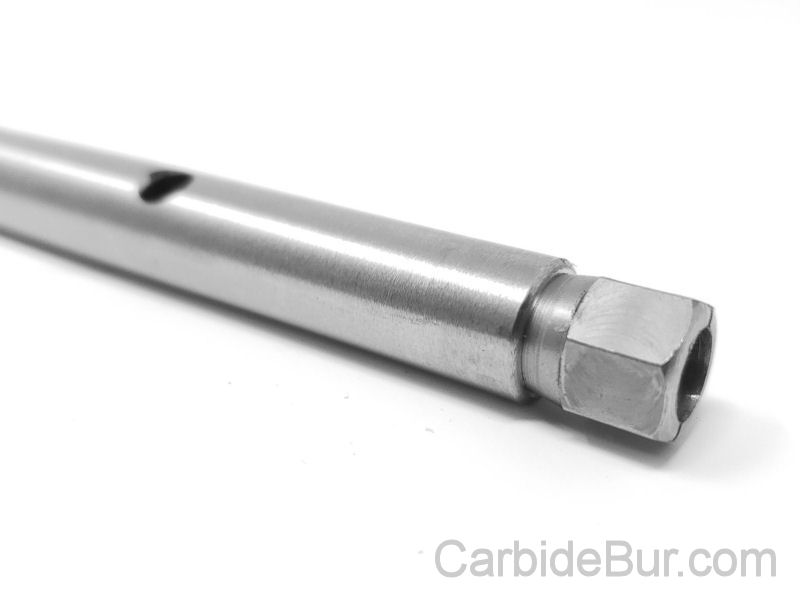 Need a longer reach?
Try our 4″ and 9″ extension tool for your carbide bur bits

Welding
Welding is a fabrication process that joins materials, usually metals or thermoplastics, by causing coalescence. This is often done by melting the workpieces and adding a filler material to form a pool of molten material that cools to become a strong joint, but sometimes pressure is used in conjunction with heat, or by itself, to produce the weld.
Many different energy sources can be used for welding, including a gas flame, an electric arc, a laser, an electron beam, friction, and ultrasound. While often an industrial process, welding can be done in many different environments, including open air, underwater and in space. Regardless of location, however, welding remains dangerous, and precautions must be taken to avoid burns, electric shock, poisonous fumes, and overexposure to ultraviolet light.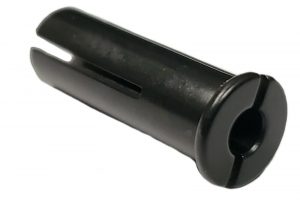 Try our 1/4" to 1/8" Collet Reducer
Allows you to use 1/8" shank carbide bits in your 1/4" die grinder

All our USA made carbide bur cutting tools ship SAME DAY ordered by USPS Mail with online tracking.
We can also dropship the SA-11 carbide bur die grinder bit, if interested in joining our FREE dropship program.

We accept debit and all major credit card payments including Visa, MasterCard, Discover, American Express and PayPal.  Fast and easy secure checkout with no account or login required.  If you have any questions, visit our FAQ page or contact us here.


Carbide Burs – 1/4″ on 1/8″ Shanks – Accessories – Aluminum Cut – Bur Sets – End Mills – Long Shank – Solid Burs