Metalsmith
Our carbide bur tools are used by metalsmith all over the world.  We will explain to you what metalsmiths do and some history along with it.
What is a Metalsmith?
A metalsmith or simply smith is a craftsperson fashioning useful items (for example, tools, kitchenware, tableware, jewellery, and weapons) out of various metals. A metalsmith smithing is one of the oldest metalworking occupations. Shaping metal with a hammer (forging) is the archetypical component of smithing. Often the hammering is done while the metal is hot, having been heated in a forge. Smithing can also involve the other aspects of metalworking, such as refining metals from their ores (traditionally done by smelting), casting it into shapes (founding), and filing to shape and size.
The prevalence of metalworking in the culture of recent centuries has led Smith and its equivalents in various languages to be a common occupational surname (German Schmidt, Portuguese Ferreiro, Ferreira, French Lefèvre, Spanish Herrero, Italian Fabbri, Ferrari, Ferrero, Ukrainian Koval etc.). As a suffix, -smith connotes a meaning of a specialized craftsperson—for example, wordsmith and tunesmith are nouns synonymous with writer or songwriter, respectively.
Blacksmith
A blacksmith is a metalsmith who creates objects from wrought iron or steel by forging the metal, using tools to hammer, bend, and cut (cf. tinsmith). Blacksmiths produce objects such as gates, grilles, railings, light fixtures, furniture, sculpture, tools, agricultural implements, decorative and religious items, cooking utensils and weapons. The place where a blacksmith works is called variously a smithy, a forge or a blacksmith's shop.
While there are many people who work with metal such as farriers, wheelwrights, and armorers, the blacksmith had a general knowledge of how to make and repair many things, from the most complex of weapons and armor to simple things like nails or lengths of chain.
Origin of the term
The "black" in "blacksmith" refers to the black firescale, a layer of oxides that forms on the surface of the metal during heating. The origin of "smith" is debated, it may come from the old English word "smythe" meaning "to strike" or it may have originated from the Proto-German "smithaz" meaning "skilled worker."
Smithing Process
Blacksmiths work by heating pieces of wrought iron or steel until the metal becomes soft enough for shaping with hand tools, such as a hammer, an anvil and a chisel. Heating generally takes place in a forge fueled by propane, natural gas, coal, charcoal, coke, or oil.
Some modern blacksmiths may also employ an oxyacetylene or similar blowtorch for more localized heating. Induction heating methods are gaining popularity among modern blacksmiths.
Color is important for indicating the temperature and workability of the metal. As iron heats to higher temperatures, it first glows red, then orange, yellow, and finally white. The ideal heat for most forging is the bright yellow-orange color that indicates forging heat. Because they must be able to see the glowing color of the metal, some blacksmiths work in dim, low-light conditions, but most work in well-lit conditions. The key is to have consistent lighting, but not too bright. Direct sunlight obscures the colors.
The techniques of smithing can be roughly divided into forging (sometimes called "sculpting"), welding, heat-treating, and finishing.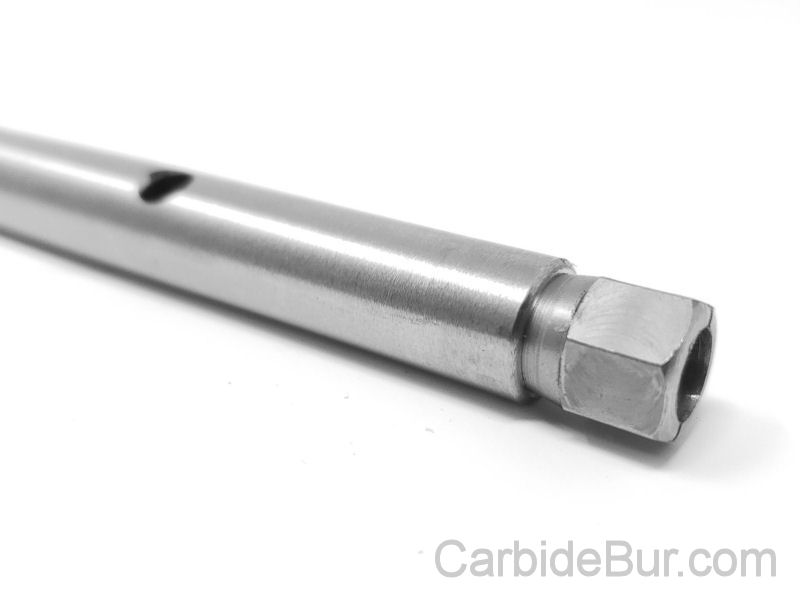 Need a longer reach?
Try our 4″ and 9″ extension tool for your carbide bur bits

Welding
Welding is the joining of the same or similar kind of metal.
A modern blacksmith has a range of options and tools to accomplish this. The basic types of welding commonly employed in a modern workshop include traditional forge welding as well as modern methods, including oxyacetylene and arc welding.
In forge welding, the pieces to join are heated to what is generally referred to as welding heat. For mild steel most smiths judge this temperature by color: the metal glows an intense yellow or white. At this temperature the steel is near molten.
Any foreign material in the weld, such as the oxides or "scale" that typically form in the fire, can weaken it and cause it to fail. Thus the mating surfaces to be joined must be kept clean. To this end a smith makes sure the fire is a reducing fire: a fire where, at the heart, there is a great deal of heat and very little oxygen. The smith also carefully shapes mating faces so that as they come together foreign material squeezes out as the metal is joined. To clean the faces, protect them from oxidation, and provide a medium to carry foreign material out of the weld, the smith sometimes uses flux—typically powdered borax, silica sand, or both.
The smith first cleans parts to be joined with a wire brush, then puts them in the fire to heat. With a mix of drawing and upsetting the smith shapes the faces so that when finally brought together, the center of the weld connects first and the connection spreads outward under the hammer blows, pushing out the flux (if used) and foreign material.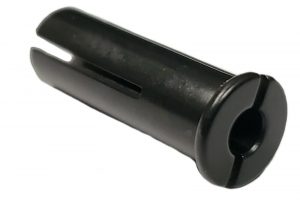 Try our 1/4" to 1/8" Collet Reducer
Allows you to use 1/8" shank carbide bits in your 1/4" die grinder

All our USA made carbide bur cutting tools ship SAME DAY ordered by USPS Mail with online tracking.
We can also dropship the carbide bur die grinder bits, if interested in joining our FREE dropship program.

We accept debit and all major credit card payments including Visa, MasterCard, Discover, American Express and PayPal.  Fast and easy secure checkout with no account or login required.  If you have any questions, visit our FAQ page or contact us here.


Carbide Burs – 1/4″ on 1/8″ Shanks – Accessories – Aluminum Cut – Bur Sets – End Mills – Long Shank – Solid Burs