Discover Card Credit Card Payments Accepted
Discover Card credit card payments, along with Visa, Mastercard, American Express and PayPal all accepted for our carbide bur die grinder tool bits.  Here is some information about Discover Card you might find interesting below.
Discover is a credit card brand issued primarily in the United States. It was introduced by Sears in 1985. When launched, Discover did not charge an annual fee and offered a higher-than-normal credit limit, features that were disruptive to the existing credit card industry. A subsequent innovation was "Cashback Bonus" on purchases.
Most cards with the Discover brand are issued by Discover Bank, formerly the Greenwood Trust Company. Discover transactions are processed through the Discover Network payment network. In 2005, Discover Financial Services acquired Pulse, an electronic funds transfer network, allowing it to market and issue debit and ATM cards. In February 2006, Discover Financial Services announced that it would begin offering Discover debit cards to other financial institutions, made possible by the acquisition of Pulse.
Discover is the fourth largest credit card brand in the U.S., behind Visa, MasterCard and American Express, with nearly 44 million cardholders.
Discover Card History
At the time Discover was introduced, Sears was the largest retailer in the United States. It had purchased the Dean Witter Reynolds brokerage organization and Coldwell, Banker & Company (real estate) in 1981 as an attempt to add financial services to its portfolio of customer services. Ray Kennedy, Sr, father of country singer Ray Kennedy and the credit manager for Sears, conceived the card. The actual launch was pushed through by Philip J. Purcell and Mitchell M. Merin, the company's senior vice president for corporate administration and manager of financial analysis, respectively. Together with the Discover Card (and its issuing bank, the Greenwood Trust Company, owned by Sears), this was named the Sears Financial Network. Early Discover cards bore a small embossed symbol representing the Sears Tower, then the company's headquarters.
Discover was part of Dean Witter, and then Morgan Stanley, until 2007, when Discover Financial Services became an independent company. Novus was once the major processing center that partnered with the company. The Novus logo was retired, replaced by the Discover Network logo.
Unlike other attempts at creating a credit card to rival MasterCard and Visa, such as Citibank's Choice card, Discover gained a large national consumer base. It carried no annual fee, which was uncommon at the time, and offered a typically higher credit limit than similar cards. Cardholders could also earn a "Cashback Bonus", in which a percentage of the amount spent would be refunded to the account (from 1% to 5%), depending on how much the card was used. A 1989 study found that Discover had strong consumer adoption in the U.S.; the number of households with Discover cards increased by 2.1 million, or 14 percent, in 1989. Discover was also noteworthy for being the only credit card accepted by the U.S. Customs Service to pay customs duty, effective February 19, 1987. Since it did not charge a percentage fee to retailers, unlike Visa, MasterCard, and American Express, Discover was also the only credit card accepted at Sam's Club; the retailer has since started to accept MasterCard and American Express.
The plan to create a one-stop financial-services center in Sears stores was not as successful as Sears had hoped, and its promotion of Discover was thought both to hurt Sears turnover and to restrict the card's potential. Other retailers resisted it, as they believed they would be helping their competitor. Sears began to face difficulties in the late 1980s in light of these developments, and with strong competition both from Walmart and from so-called category killers such as Toys "R" Us. Discover's introduction was costly; Sears's Discover credit card operations accounted for a loss of $22 million in the fourth quarter of 1986, and a loss of $25.8 million in the first quarter of 1987. Sears sold its financial businesses in 1993 and began to accept MasterCard and Visa in addition to its store credit card and Discover. Discover became part of the Dean Witter financial services firm. Dean Witter Discover merged with Morgan Stanley in 1997.
Uses for Carbide Bur Cutting Tools:
Aluminum
Brass
Bronze
Carbon fiber
Cast iron
Ceramics
Copper
Fiberglass
Gold
Hard rubber
Plastic
Platinum
Silver
Steel
Stone
Titanium
Wood
Zinc
Burs (burrs) come in a variety of shapes and sizes, each of which can be used for different purposes:
Arch ball/pointed nose – engraving, texturing, increasing hole size
Ball – concave cuts, hollowing, shaping, carving. Useful for wood, stone, metal engraving.
Ball nose cone – rounding edges, surface finishing, tight spaces, and angles.
Carbide Ball nose cylinder- contour finishing
Ball nose tree (also known as tapered) – concave cuts and rounding edges
Cone – rounding edges, surface finishing, tight spaces, hard to reach areas.
Cylindrical – contour finishing and right-angled corners
Cylindrical end cut – contour finishing
Carbide Cylindrical no end cut – contour finishing
Flame – channel work and shaping
Inverted cone – v-cuts and rear-side chamfering
Oval – die grinding and engraving
Pointed tree – concave cuts, rounding edges, access to hard-to-reach areas, and acute angles.
Rounded tree – concave cuts and rounding edges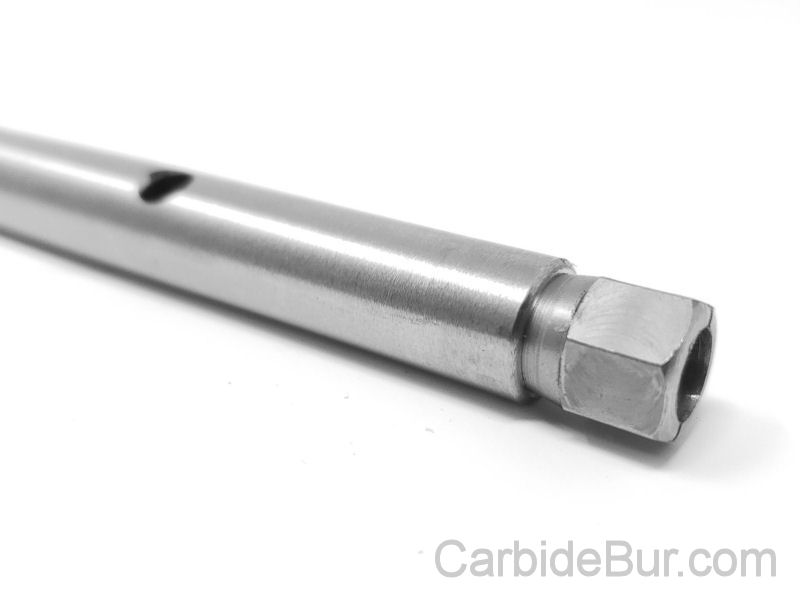 Need a longer reach?
Try our 4″ and 9″ extension tool for your carbide bur bits

Burs (burrs) also come in a variety of ranges, each of which has a specific benefit in their use:
Alloy-specific – heads have varying shapes used with certain metal alloys – used in the
aerospace/aviation industry
Base metal range – used for deburring on softer metals
Bolt remover range – used for the removal of broken studs
Foundry metal range – used for deburring on harder metals, stone, etc.
Inox range – specifically used with stainless steel
Locksmith range – used by locksmiths
Long shank range – general-purpose; long shafts useful for deeper, hard-to-reach areas
Miniature range – miniature heads useful for engraving and fine detail work
New geometry range – used for all general metal removal
Steel range – heads have specialized fluting to cut stainless steel
Universal range – general-purpose, best on metals such as copper, iron, nickel, and steel
Carbide burs (burrs) require a bit of special care to keep them performing optimally. To preserve the life
of your carbide burs (burrs), ensure your handpiece does not wobble. The speed of your rotary tool
should not exceed 35,000 RPMs, and speed should be gradually increased. Please note, however,
that higher speeds will prevent flute clogging inside the bur (burr). If you apply too much pressure to the
bur (burr), the edges may chip, resulting in premature dulling.
Choose Double or Single Cut Carbide Bur?
Used on ferrous and non ferrous metals, aluminium, soft steel and also for all non-metal materials such as stone, plastics, hard wood and ceramic. Double cut have more cutting edges and will remove material much faster. Double cut will leave a smoother finish than single cut due to producing smaller chips as they cut away the material. Use for medium-light stock removal, deburring, finishing and cleaning.
Designed for medium- light removal of material, deburring, fine finishing, cleaning, smooth finish, and creating small chips.
Usually used with stainless steel, hardened steel, copper, cast iron, and ferrous metals and will remove material quickly with a smooth finish. Use for heavy stock removal, milling, deburring and cleaning.
Designed for heavy removal of material, milling, deburring, cleaning, and creating long chips.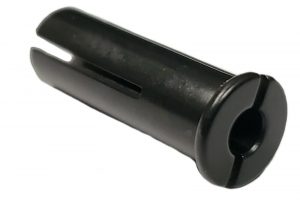 Try our 1/4" to 1/8" Collet Reducer
Allows you to use 1/8" shank carbide bits in your 1/4" die grinder

Uses for Carbide Bur Die Grinder Bits
Carbide burs are widely used in metalworking, tool making, engineering, model engineering, wood carving, jewelry making, welding, chamferring, casting, deburring, grinding, cylinder head porting and sculpting. Carbide burs can be used in the aerospace, automotive, dentistry, stone and metalsmith industries.
All our USA made carbide bur cutting tools ship SAME DAY ordered by USPS Mail with online tracking.
We can also dropship the carbide bur die grinder bits, if interested in joining our FREE dropship program.

We accept debit and all major credit card payments including Visa, MasterCard, Discover, American Express and PayPal.  Fast and easy secure checkout with no account or login required.  If you have any questions, visit our FAQ page or contact us here.


Carbide Burs – 1/4″ on 1/8″ Shanks – Accessories – Aluminum Cut – Bur Sets – End Mills – Long Shank – Solid Burs