What is a Die Grinder?
What is a die grinder?  Die grinders and rotary tools are handheld power tools used for grinding, sanding, honing, polishing, or machining material (typically metal, but also plastic or wood). All such tools are conceptually similar, with no bright dividing line between die grinders and rotary tools, although the die grinder name tends to be used for pneumatically driven heavy-duty versions whereas the rotary tool name tends to be used for electric lighter-duty versions. Flexible shaft drive versions also exist. The die grinder name comes from one of their earliest and archetypal applications, tool and die work, where they were used to create the precise contours of dies or molds. Especially before the advent of widespread CNC usage, they were heavily relied upon for contouring via manual skill comparable to a sculptor's. CNC now provides much of the contouring for die and mold interior surfaces, but die grinders are still very useful for hundreds of cutting needs, from sculpture-like contouring in the absence of CNC, to cut-off of bar stock, to any of the cutting and grinding needs of fabrication, such as in the work of welders, boilermakers, millwrights, ironworkers (steel erectors), sheet metal workers (such as auto body workers and HVAC technicians), to woodworking (especially cabinet making), hacking, and other hobby or business pursuits. Die grinders are often used for engraving, cylinder head porting, and general shaping of a part.
Methods of cutting action
The cutting may be done in various ways, including:
Grinding with bonded abrasive stones (called by various names, such as mounted stones, mounted points, or grinding points)
Machining with a burr or small drill bit or endmill
Sanding with coated abrasive, such as small drums made of sandpaper mounted on an expanding rubber mandrel (also called an arbor)
Honing with fine-grit mounted points
Lapping with lapping compound and a mounted lap to embed it
Polishing or buffing with cloth or fiber drums or flaps and polishing compound
Types of cutters
Mounted stones of many shapes and various [small or medium] sizes (also called mounted points or grinding points)
Burrs of many shapes and various [small or medium] sizes (also called rotary files)
Small drill bits
Small endmills
Small disc-shaped saw blades or milling cutters
Small abrasive cut-off wheels, which work like saw blades except via abrasive cutting rather than sawing per se
Small sanding drums
Small sanding flap wheels
Small cloth or fiber wheels, drums, and flap wheels (for holding polishing compound)
Mounted laps
Methods of holding the cutter
The cutter is usually held in a collet, which is a convenient means of chucking in this application and provides the concentricity needed for high-RPM use. It also allows for quick changes in cutters. In some applications, other quick-change indexable chucking systems can be used, similar to the indexable chucking types now commonly found on consumer pistol-grip drills.
Safety
Personal protective equipment (PPE)
The most universal safety precaution in die grinder use is to protect one's eyes by wearing safety glasses.
Other common PPE in die grinder use includes:
Other eye and face protection, such as safety goggles (basically "safety glasses with sides too") or a face shield, which is simply a polycarbonate window, hanging from a headband, between one's face and the work. All eye protectors come in clear versions as well as various levels of shading (for grinding that produces enough sparks to warrant shading, like torching or welding do).
Hearing protection, such as ear plugs or headphones (die grinders are often quite loud, even just running unloaded, but even more so while cutting).
Skin protection, such as work gloves (and in some special applications, fire-retardant clothing because of the sparks, although the sparks are usually harmless in most applications).
Protection for the respiratory and alimentary tracts (mouth, throat, lungs, gut), such as simple paper masks or, in special applications, a respirator. Masks may be trivial in many applications but important in others. Any abrasive cutting generates dust, from both the abrasive itself and from the workpiece. Depending on the materials and amounts, masks may be needed.
Safety features built into the tool
Most pneumatic die grinder throttles (also called triggers) feature a spring-loaded "kickstand" mechanism between the throttle lever and the body of the grinder. This prevents the throttle from opening (being pressed down towards the body of the grinder) without operator intervention and inhibits accidental activation. It is similar in principle to the safety catches used on many handguns.
Tools with electric motors often have electrical safety features such as grounded cases (wired to a grounding conductor, which uses the grounding prong on a plug) or double insulation. Some may have both, but this is uncommon, because regulatory requirements require only one or the other.
We offer a huge selection of solid carbide burs and die grinder bits that fit your Dremel.  1/8″ shanks and 1 1/2″ overall length.
SA-41  1/16″ x 1/4″
SA-42  3/32″ x 7/16″
SA-43  1/8″ x 9/16″
SC-41  3/32″ x 7/16″
SC-42  1/8″ x 9/16″
SD-41  3/32″
SD-42  1/8″
SE-41  1/8″ x 7/32″
SF-41  1/8″ x 1/4″
SF-42  1/8″ x 1/2″
SG-41  1/8″ x 1/4″
SG-43  1/8″ x 3/8″
SG-44  1/8″ x 1/2″
SH-41  1/8″ x 1/4″
SJ-42  1/8″  60 degree included taper
SK-42  1/8″  90 degree included taper
SL-41  1/8″ x 3/8″
SL-42  1/8″ x 1/2″
SM-41  1/8″ x 11/32″
SM-42  1/8″ x 7/16″
SM-43  1/8″ x 5/8″
SN-41  3/32″ x 1/8″  10 degree included taper
SN-42  1/8″ x 3/16″  10 degree included taper
SQ-41  1/8″
1/4″ carbide burs on 1/8″ heat treated steel shanks are perfect to fit your Dremel.
SA-51  1/4″ x 1/2″
SB-51  1/4″ x 3/16″
SC-51  1/4″ x 1/2″
SD-51  1/4″
SE-51  1/4″ x 3/8″
SF-51  1/4″ x 1/2″
SG-51  1/4″ x 1/2″
SM-51  1/4″ x 1/2″  22 degree included taper
SN-51  1/4″ x 1/4″  10 degree included taper
We will tell you the differences between single, double and aluminum cuts, and when to use them.

Choose Double, Single or Aluminum Cut Ball Shape Carbide Bur?

Double Cut
Our double cut carbide burs allow for rapid stock removal in harder materials.  The addition of the left hand flutes reduces the pulling action, allowing better operator control.  You can reduce the size of the chips and use them at slower than normal speeds using our double cut burs.

Single Cut
Our single cut carbide burs are for general purpose and designed for cast iron, steel, some copper and brass, and other ferrous materials.  Single cut will give good material removal and good workpiece finishes.
Aluminum Cut
Non-ferrous are exactly what you would expect them to be. Use our cutting tools on non-ferrous materials such as aluminum, copper and magnesium.
Our USA made tungsten carbide burrs can be used on most hard materials including steel, aluminum and cast iron, all types of stone, ceramic, porcelain, hard wood, acrylics, fibreglass and reinforced plastics. If you use our burs on soft metals such as gold, platinum and silver, carbide burrs are perfect as they will last for a long time with no breaking or chipping.
Different cuts of carbide burrs will be best suited for certain materials.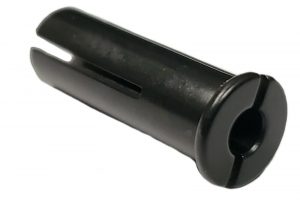 Try our 1/4" to 1/8" Collet Reducer
Allows you to use 1/8" shank carbide bits in your 1/4" die grinder

Uses for Ball Shape Carbide Bur Die Grinder Bits
Carbide burs are widely used in metalworking, tool making, engineering, model engineering, wood carving, jewelry making, welding, chamferring, casting, deburring, grinding, cylinder head porting and sculpting. Our carbide cutting tools are used in the aerospace, automotive, dentistry, stone and metalsmith industries.
Carbide burs (burrs) are tools that are used for precision in cutting, grinding, and shaping the material
with which they are being worked. Additionally, you can use them for deburring, where burrs, excess
materials, sharp edges, and weld beads are removed. Use carbide burs in industrial tools, such as air
tools (e.g., die grinders), engravers, flexible shafts, and pendant drills, as well as for hobbies (e.g.,
Dremel tools). Their uses are varied and diverse, such as jewelry work, metalworking, welding,
woodworking, and cover a range of industries, including aeronautics, aviation, automotive, dentistry,
and metal and stone working.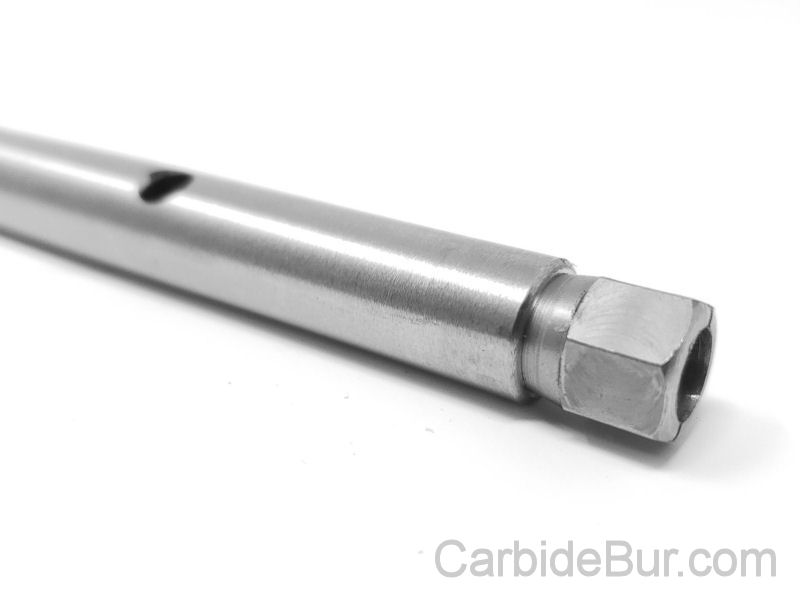 Need a longer reach?
Try our 4″ and 9″ extension tool for your carbide bur bits

Carbide burs (burrs) are composed of titanium or tungsten; diamond is the only material on
the Mohs scale that is harder and also used for drill tips. This means they are ideal for multiple purposes
due to the fact that they maintain sharper cutting edges for longer periods of time due, and tolerate
higher temperatures without warping when you apply friction. Carbide burs (burrs) maintain their sharp edges 10-20 times longer than a stainless-steel bur (burr), depending on the
frequency of use and the materials used with.
All our USA made carbide bur cutting tools ship SAME DAY ordered by USPS Mail with online tracking.
We can also dropship the ball shape carbide bur die grinder bit, if interested in joining our FREE dropship program.

We accept debit and all major credit card payments including Visa, MasterCard, Discover, American Express and PayPal.  Fast and easy secure checkout with no account or login required.  If you have any questions, visit our FAQ page or contact us here.


Carbide Burs – 1/4″ on 1/8″ Shanks – Accessories – Aluminum Cut – Bur Sets – End Mills – Long Shank – Solid Burs