What is Pneumatics?
What is pneumatics?  Pneumatics (From Greek: meaning breath of life) is a branch of engineering that makes use of gas or pressurized air.
Pneumatic systems used in industry are commonly powered by compressed air or compressed inert gases. A centrally located and electrically powered compressor powers cylinders, air motors, and other pneumatic devices. A pneumatic system controlled through manual or automatic solenoid valves is selected when it provides a lower cost, more flexible, or safer alternative to electric motors and actuators.
Pneumatics also has applications in dentistry, construction, mining, and other areas.
A pneumatic butterfly valve
Pneumatic systems in fixed installations, such as factories, use compressed air because a sustainable supply can be made by compressing atmospheric air. The air usually has moisture removed, and a small quantity of oil is added at the compressor to prevent corrosion and lubricate mechanical components.
Factory-plumbed pneumatic-power users need not worry about poisonous leakage, as the gas is usually just air. Smaller or stand-alone systems can use other compressed gases that present an asphyxiation hazard, such as nitrogen—often referred to as OFN (oxygen-free nitrogen) when supplied in cylinders.
Any compressed gas other than air is an asphyxiation hazard—including nitrogen, which makes up 78% of air. Compressed oxygen (approx. 21% of air) would not asphyxiate, but is not used in pneumatically-powered devices because it is a fire hazard, more expensive, and offers no performance advantage over air.
Portable pneumatic tools and small vehicles, such as Robot Wars machines and other hobbyist applications are often powered by compressed carbon dioxide, because containers designed to hold it such as soda stream canisters and fire extinguishers are readily available, and the phase change between liquid and gas makes it possible to obtain a larger volume of compressed gas from a lighter container than compressed air requires. Carbon dioxide is an asphyxiant and can be a freezing hazard if vented improperly.
History  of Pneumatics 
The origins of pneumatics can be traced back to the first century when ancient Greek mathematician Hero of Alexandria wrote about his inventions powered by steam or the wind.
German physicist Otto von Guericke (1602 to 1686) went a little further. He invented the vacuum pump, a device that can draw out air or gas from the attached vessel. He demonstrated the vacuum pump to separate the pairs of copper hemispheres using air pressures. The field of pneumatics has changed considerably over the years. It has moved from small handheld devices to large machines with multiple parts that serve different functions.
Comparison to hydraulics
Both pneumatics and hydraulics are applications of fluid power. Pneumatics uses an easily compressible gas such as air or a suitable pure gas—while hydraulics uses relatively incompressible liquid media such as oil. Most industrial pneumatic applications use pressures of about 80 to 100 pounds per square inch (550 to 690 kPa). Hydraulics applications commonly use from 1,000 to 5,000 psi (6.9 to 34.5 MPa), but specialized applications may exceed 10,000 psi (69 MPa).
Uses for Carbide Bur Cutting Tools:
Aluminum
Brass
Bronze
Carbon fiber
Cast iron
Ceramics
Copper
Fiberglass
Gold
Hard rubber
Plastic
Platinum
Silver
Steel
Stone
Titanium
Wood
Zinc
Burs (burrs) come in a variety of shapes and sizes, each of which can be used for different purposes:
Arch ball/pointed nose – engraving, texturing, increasing hole size
Ball – concave cuts, hollowing, shaping, carving. Useful for wood, stone, metal engraving.
Ball nose cone – rounding edges, surface finishing, tight spaces, and angles.
Carbide Ball nose cylinder- contour finishing
Ball nose tree (also known as tapered) – concave cuts and rounding edges
Cone – rounding edges, surface finishing, tight spaces, hard to reach areas.
Cylindrical – contour finishing and right-angled corners
Cylindrical end cut – contour finishing
Carbide Cylindrical no end cut – contour finishing
Flame – channel work and shaping
Inverted cone – v-cuts and rear-side chamfering
Oval – die grinding and engraving
Pointed tree – concave cuts, rounding edges, access to hard-to-reach areas, and acute angles.
Rounded tree – concave cuts and rounding edges
Burs (burrs) also come in a variety of ranges, each of which has a specific benefit in their use:
Alloy-specific – heads have varying shapes used with certain metal alloys – used in the
aerospace/aviation industry
Base metal range – used for deburring on softer metals
Bolt remover range – used for the removal of broken studs
Foundry metal range – used for deburring on harder metals, stone, etc.
Inox range – specifically used with stainless steel
Locksmith range – used by locksmiths
Long shank range – general-purpose; long shafts useful for deeper, hard-to-reach areas
Miniature range – miniature heads useful for engraving and fine detail work
New geometry range – used for all general metal removal
Steel range – heads have specialized fluting to cut stainless steel
Universal range – general-purpose, best on metals such as copper, iron, nickel, and steel
Carbide burs (burrs) require a bit of special care to keep them performing optimally. To preserve the life
of your carbide burs (burrs), ensure your handpiece does not wobble. The speed of your rotary tool
should not exceed 35,000 RPMs, and speed should be gradually increased. Please note, however,
that higher speeds will prevent flute clogging inside the bur (burr). If you apply too much pressure to the
bur (burr), the edges may chip, resulting in premature dulling.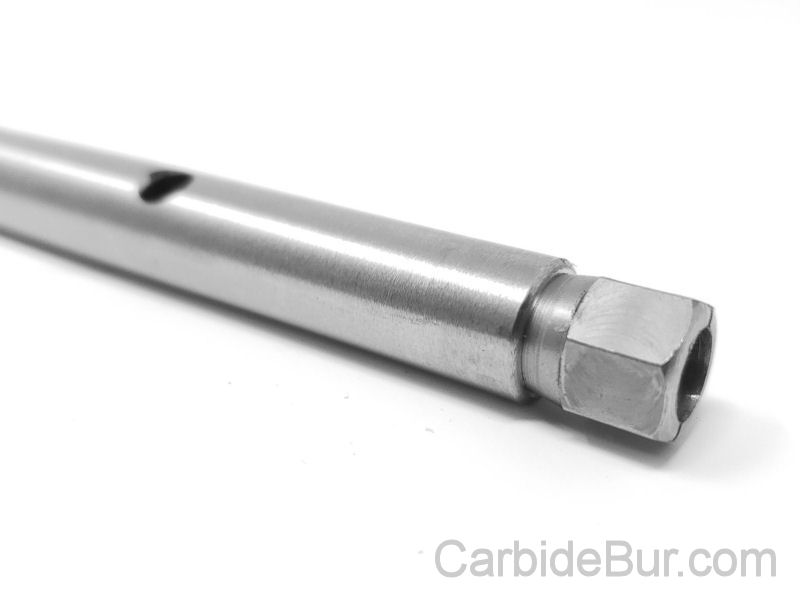 Need a longer reach?
Try our 4″ and 9″ extension tool for your carbide bur bits

Choose Double or Single Cut Carbide Bur?
Used on ferrous and non ferrous metals, aluminium, soft steel and also for all non-metal materials such as stone, plastics, hard wood and ceramic. Double cut have more cutting edges and will remove material much faster. Double cut will leave a smoother finish than single cut due to producing smaller chips as they cut away the material. Use for medium-light stock removal, deburring, finishing and cleaning.
Designed for medium- light removal of material, deburring, fine finishing, cleaning, smooth finish, and creating small chips.
Usually used with stainless steel, hardened steel, copper, cast iron, and ferrous metals and will remove material quickly with a smooth finish. Use for heavy stock removal, milling, deburring and cleaning.
Designed for heavy removal of material, milling, deburring, cleaning, and creating long chips.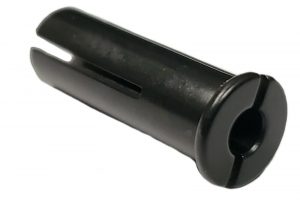 Try our 1/4" to 1/8" Collet Reducer
Allows you to use 1/8" shank carbide bits in your 1/4" die grinder

Uses for Carbide Bur Die Grinder Bits
Carbide burs are widely used in metalworking, tool making, engineering, model engineering, wood carving, jewelry making, welding, chamferring, casting, deburring, grinding, cylinder head porting and sculpting. Carbide burs can be used in the aerospace, automotive, dentistry, stone and metalsmith industries.
All our USA made carbide bur cutting tools ship SAME DAY ordered by USPS Mail with online tracking.
We can also dropship the carbide bur die grinder bits, if interested in joining our FREE dropship program.

We accept debit and all major credit card payments including Visa, MasterCard, Discover, American Express and PayPal.  Fast and easy secure checkout with no account or login required.  If you have any questions, visit our FAQ page or contact us here.


Carbide Burs – 1/4″ on 1/8″ Shanks – Accessories – Aluminum Cut – Bur Sets – End Mills – Long Shank – Solid Burs